Ukrinform: 28. July 2014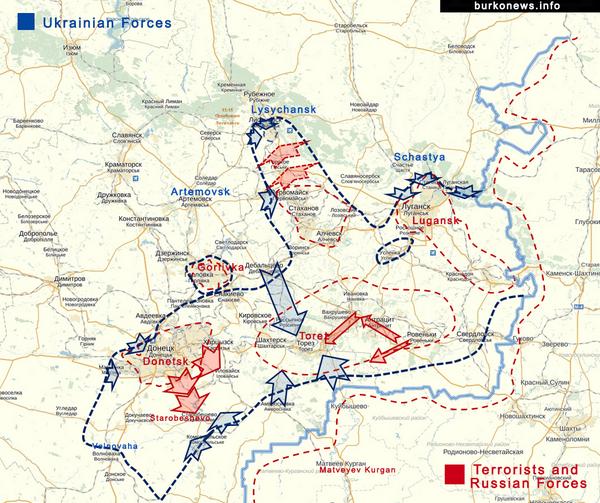 Map of eastern Ukraine fighting.
Note Ukrainian forces push toward Torez & rebel Lugansk-Russia corridor
KYIV, July 28 /Ukrinform/. Troops of the anti-terrorist operation (ATO) have completely blocked Horlivka, the ATO press office wrote on its Facebook page.
"During the day [Sunday - ed.] advanced detachments of the ATO forces continued to attack certain areas and narrow the ring around gangs. Horlivka is completely blocked," the report reads.
The press office added that the terrorists along with mercenaries during the day offered stubborn resistance, but suffered heavy losses in manpower and materiel.
After the leaders of terrorists operating in eastern Ukraine, Igor Girkin (Strelkov) and Igor Bezler (Bes) disappeared in an unknown direction, the "power" in Horlivka has been transferred to a warlord nicknamed "Botsman," who threatens to blow up the local Stirol plant if the Ukrainian army continues the offensive.
This was stated by reservist Colonel General Volodymyr Ruban, according to the Hvylya online newspaper.
"Today the Ukrainian army launched an offensive in the area of Horlivka, firing on the positions of terrorists, including with Grad rocket launchers and guns. This created panic in the town, because the locals were not ready for such a situation. The most dangerous thing is that 'Botsman' threatens to blow up Horlivka's Stirol and other hazardous facilities if the Ukrainian army does not stop shelling the positions of militants," Ruban said.
Vice News: 28. July 2014
Anti-Terror Operation Tightens Net Around Donetsk as Ukrainian Forces Push Toward MH17 Crash Site
An armoured personnel carrier flying Ukraine's flag (L) and a Ukrainian tank, from a convoy of the Ukrainian forces, drive towards the eastern Ukrainian city of Horlivka, July 25 2014.
This morning at around 5AM a half-hour volley of heavy artillery rained down on pro-Russia rebel stronghold Gorlovka, a city of nearly 300,000 people. Video footage of the assault shows a series of large explosions followed by massive spires of black smoke rising from the city's suburbs.
More than 230,000 people have fled the region as fierce fighting has flared following the announcement by Ukraine's new president, Petro Poroshenko, that the Kiev-backed anti-terrorism operation (ATO) aimed at dislodging the pro-Russia rebels in the country's east had entered a "new phase" aimed at "liberating" the region's two largest cities.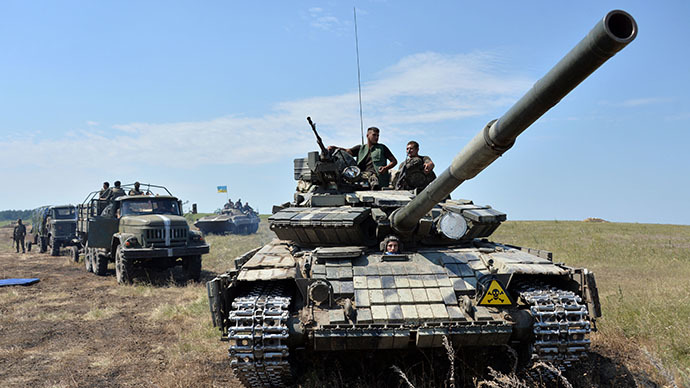 A convoy of military vehicles of the Ukrainian forces drives from
the eastern Ukrainian city of Lysychansk
towards the city of Horlvika, on July 25, 2014
But many others have remained. "This is my home, this is where my children were born, this is where everything I have worked for is," tearful Marina, a mother of two, told VICE News by telephone. She and her family said they had no time to reach the nearby bomb shelter this morning when the artillery strike began in Horlivka (Russian: Gorlovka) and instead just lay under their beds. "We were sleeping, the windows smashed from the weight of the explosion. We were on the floor. It felt like the end of the world," she sobbed.
According to locals between 12 and 30 civilians were killed in the dawn attack, which reportedly hit several residential blocks, blew out the windows of the local hospital, and set a shopping mall on fire.
Restrictions placed on the movement of journalists in "conflict zones" by the rebels have prevented independent verification of the reports as pro-Russia fighters will not allow reporters to cross checkpoints into areas close to clashes.
People ride a scooter past a destroyed pro-Russian fighters' APC near the city of Lisichansk, Luhansk region, eastern Ukraine Saturday, July 26, 2014
However, according to local and official reports the ATO has also made significant advances across the region in recent days.
"Over the course of last week we have freed from terrorists 10 localities. We have approached Horlivka. Donetsk will be next," stated Andriy Lysenko, spokesperson for the Ukrainian Security and Defense Council.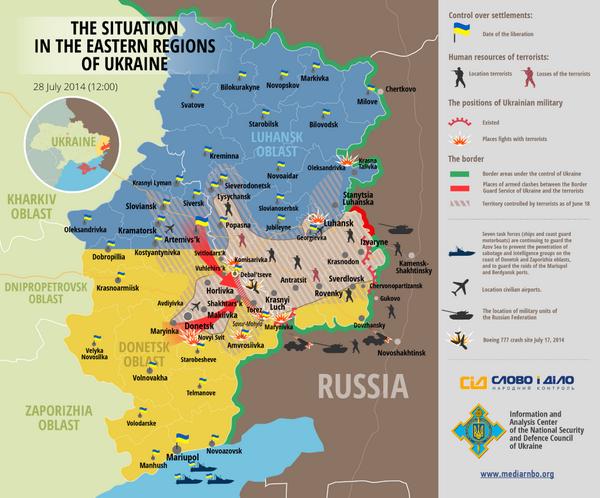 Today the streets of Donetsk, a city of nearly 1 million people, were eerily quiet as locals braced for fighting. "We know they are coming, we hear the explosions getting closer every night. My wife and kids are sitting home. I've just come out to buy bread,' said 31-year-old Ivan, as he walked along a nearly deserted boulevard in the city center.
Meanwhile the government in Kiev also announced a controversial push toward the crash site of the MH17 flight. All 298 passengers onboard the plane were killed when it was shot down ten days ago.
"Our troops are aiming to get there and liberate this territory so that we can guarantee that international experts can carry out a 100 percent investigation of the site and get all proof needed to deduce the real reason for this tragedy," said Andriy Lysenko, a spokesman for Ukraine's Security Council.
Previously the government said it had reached a ceasefire agreement with the rebels covering a 40-kilometer radius surrounding the site. The deal was supposed to allow international experts who had arrived in Kiev and Donetsk to access the site, both to investigate the causes of the crash and to search for human remains that are believed still to be in situ.
Today, following reports of Ukrainian tanks moving in the nearby area, all planned visits were called off.
In Donetsk, Alexander Hug, deputy head for the Organization for Security and Cooperation said that the "situation on the ground appears to be unsafe." The group would reconsider their position on a trip in the morning, he added, flanked by Dutch and Australian experts.
The OSCE delegation, which has made several trips to the crash site but does not carry out forensic or aviation investigations, was due to be accompanied on Sunday by a team of 30 unarmed police officers, as well as a small crew of international specialists.
Experts have warned that fighting in the area will likely further hinder a proper investigation into what caused the war-zone crash. Kiev and its western allies have accused the rebels of shooting down the plane and then attempting to prevent officials' access to the site in a bid to hide the trail of evidence pointing to them.
Fighting has raged in the areas near the crash site for weeks as Ukrainian forces attempt to sever crucial supply routes between the two rebel strongholds in Luhansk and Donetsk, and seal its porous border where much-needed fighters and arms have flowed freely into the rebels from Russia.
Today air sirens sounded in Torez — a city near the Donetsk-Luhansk borderline — as panicked residents headed to basements and other makeshift bomb shelters amid fears of a Ukrainian air strike. Nervous rebel gunmen sped up and down the streets in vans and off road vehicles, locals reported.
The war, fought by two combat-inexperienced sides, is taking an increasing heavy toll on the civilian population. Both sides persist in firing artillery at each other rather than engaging in direct combat, but as fighting edges toward towns and cities the civilian death count is rising rapidly.
Infrastructural damage is also huge. Mines, roads, electricity pylons, water pipes, factories, and train lines across the region have all been hit in the crossfire.
Kiev continues to deny that it is firing heavy artillery into populated areas, despite overwhelming evidence to the contrary. "We will not bombard Donetsk. We will use only ground forces there, which will — street after street, quarter after quarter — free the city," Lysenko said.
An on-the-ground investigation by Human Rights Watch published two days ago found that the angle and shape of the craters, and the direction of damage caused by Grad attacks in the Donetsk suburbs which killed at least 16 citizens between July 12 and 21 "strongly suggests" that they were fired from Ukrainian positions.
Sloviansk, a city to the north of Donetsk and the previous heartland of the rebels, was retaken earlier this month after a three-month campaign of shelling which decimated suburbs and also hit the city center.
On the other side, however, multiple local testimonies suggest that rebels are using civilian areas as positions for firing Grads, mortars and other heavy weaponry.
Human Rights Watch has warned that both the rebels and Ukrainian government and military officials could face war crime charges if their use of artillery in populated areas doesn't cease.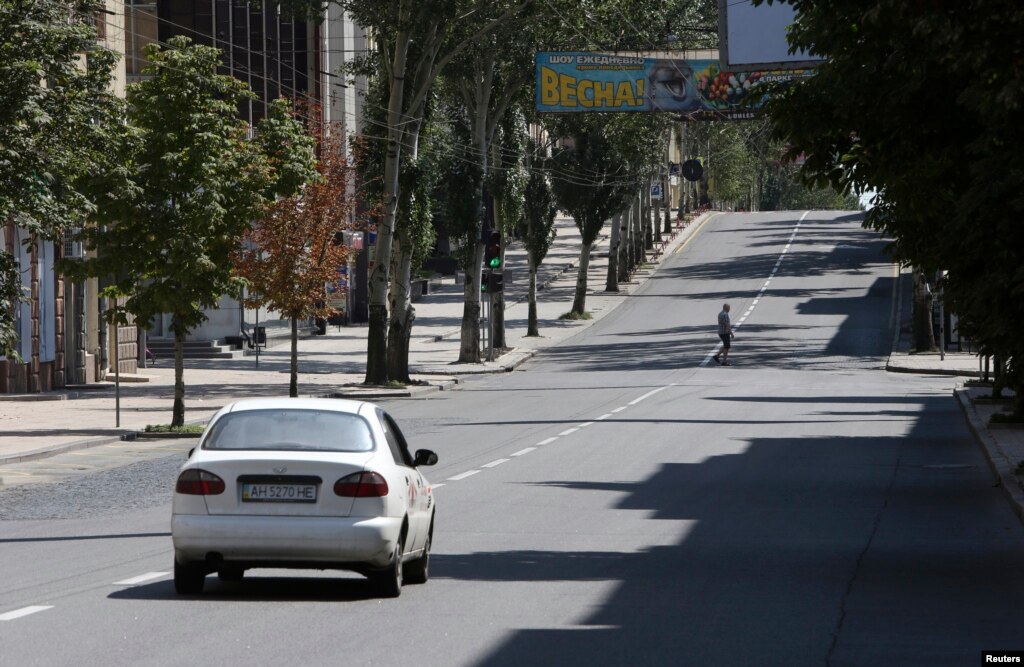 A man crosses the main street of the eastern Ukrainian city of Donetsk, July 27, 2014.
However, tonight the fighting showed no signs of abating as Grad fire echoed through the night air in Donetsk's suburbs.
Battles also continue around the city's airport and train station. Last night, tracer bullets streaked through the air as Ukrainian drones buzz overhead and rebels fired anti-aircraft missiles in return. Scared locals with piles of suitcases sheltered in the underground passages beneath the station platforms as they waited for a train out of the besieged city that was delayed by more than seven hours, reportedly due to an exploded bridge.
Interfax Ukraine & Ukrinform: 28. July 2014
Battle for Shakhtersk underway, several settlements liberated
A convoy of Ukrainian tanks and Armoured Personnel Carriers (APC) passes through the eastern Ukrainian city of Druzhkivka, north of Donetsk, on July 21, 2014
On July 27 Ukraine's manoeuvrable armoured group attacked the enemy in city of Shakhtersk, at the rear of the DPR army. H
eavy clashes began o
n the outskirts of the city. Ukrainian armoured vehicles engage in the battles at checkpoints around the city. After the
DNR's army
miners units realise they are unable to repel the attack, militia headquarters immediately sent reinforcements to the site and further along Torrez Shakhtersk road on which government forces were entering the city by tanks, infantry fighting vehicles, MLRS "Grad", trucks, minibuses and cars. DNR's army soldiers, including one of the main shock units of Igor Strelkov -
"Kalmius.",
a battalion of special purpose, dispersed after they clashed with ATO troops. Sirens sounded in the mining of civil defense, some mobile operators have stopped working, the streets become deserted. On the outskirts heavy fighting started, powerful explosions from artillery and tanks shelling could be heard, as well as shooting from automatic weapons.
Right now Shahtarsk is in fierce street battles between militia and National Guard units. Armored columns are moving from different directions on the city outskirts. Witnesses told us that a lot of equipment passed through village of Stashkovku. Several homes and vehicles used by enemy burning.
At the crossroad Torez Zhuravlevka (
on the city outskirts)
were reported intense tank battles and almost continuously sounded short bursts of automatic fire. Theres no doubt enemy reinforcements retreating to the Northeast. Ukrainian soldiers of mechanised units and their machinery stepped in Olhovchika. They suffered losses in manpower and military equipment since some of the insurgents waited in occupied private houses and shot at the approaching soldiers. Around Olhovchike
in plantations and near the 15th mine
some rebels began digging trenches.
On morning July 28 clashes continued. Around 3:00 am Eastern-European time ensued new battle at Loose, fire from automatic weapons and tanks can be heard again. This might be the crucial moments of the battle for the Donbas. Remember that Shakhtersk is on the two main line of communications between Lugansk and Donetsk, and if its lost, that can have catastrophic consequences for the defense of so called "New Russia". So, the decisive moments of the battle for the Donbas happening right now. The essence of what is happening is that the Ukrainian troops began
long-planned
operation of simultaneous attack on converging lines north and south, bypassing Donetsk in order to create a large boiler to Donetsk. From the south, they beat rebels on Shakhtersk-Torez strategic line, and from north same is happening on line Horlivka(Gorlovka) and Debalcevo.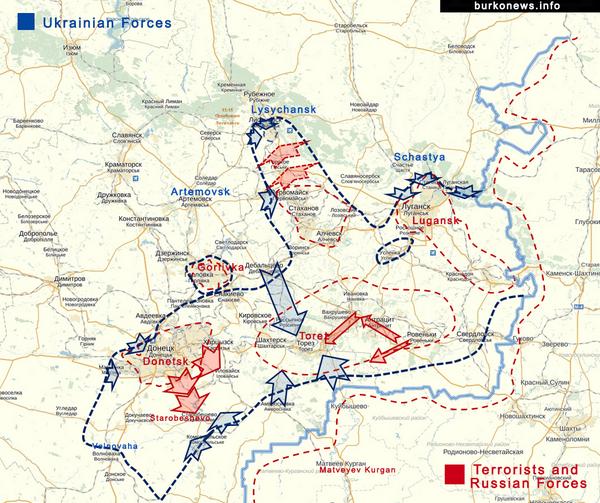 In the meantime diversionary attacks taking place at Pervomais'k-Donetsk route. Purpose: unabling communication between to flanks of rebel forces and closing the encirclement of Yenakievo. Few days ago rebel leader Igor Strelkov warned his commanders and rebel supporters to prepare for this scenario.
According to Ukrainian forces HQ Shakhtersk is already almost taken and mopped from the militias. Yesterday they stormed Debalcevo, Torez and Snizhne.
This morning, July 28th, Ukraine's Armed Forces have taken control of Savur-Mohyla (strategicaly important hill) in Donetsk region, Chief of the General Staff, Lieutenant-General Viktor Muzhenko, has reported to President Petro Poroshenko.