Reuters:
12. February 2015
A picture taken on Feb. 7, 2015 shows a destroyed tank and plane at Donetsk's Sergey Prokofiev international airport.
MINSK (Reuters) - A document seen by Reuters at talks on the Ukraine crisis suggested the sides may agree to end fighting in eastern Ukraine with a ceasefire starting on Feb. 14, the withdrawal of heavy weapons and the creation of a security zone.
It was unclear whether the English-language document, found in the palace where talks between the leaders of France, Germany, Ukraine and Russia were taking place, was a final agreement, a discussion document or a draft agreement.
It was entitled: "A package of measures for the implementation of the Minsk agreements" and dated 5:30 a.m. on Feb. 12. It detailed 13 points for the agreement.
The leaders have been talking through the night to try to find an agreement to end fighting between pro-Russian rebels and Ukrainian troops in eastern Ukraine, in a conflict which has killed more than 5,000 people.
The document also called for Ukraine to take full control of its border with Russia by the end of 2015 and the withdrawal and disarmament of foreign arms, troops and all "illegal groups" in eastern Ukraine.
It also said by the end of 2015, there should be constitutional reform in Ukraine, which would include the decentralization of the rebel-held Donetsk and Luhansk regions and that Ukraine would resume economic ties with its east.
Euronews:
12. February 2015
Minsk deal provides hope for peace in eastern Ukraine but leaders warn 'major obstacles' remain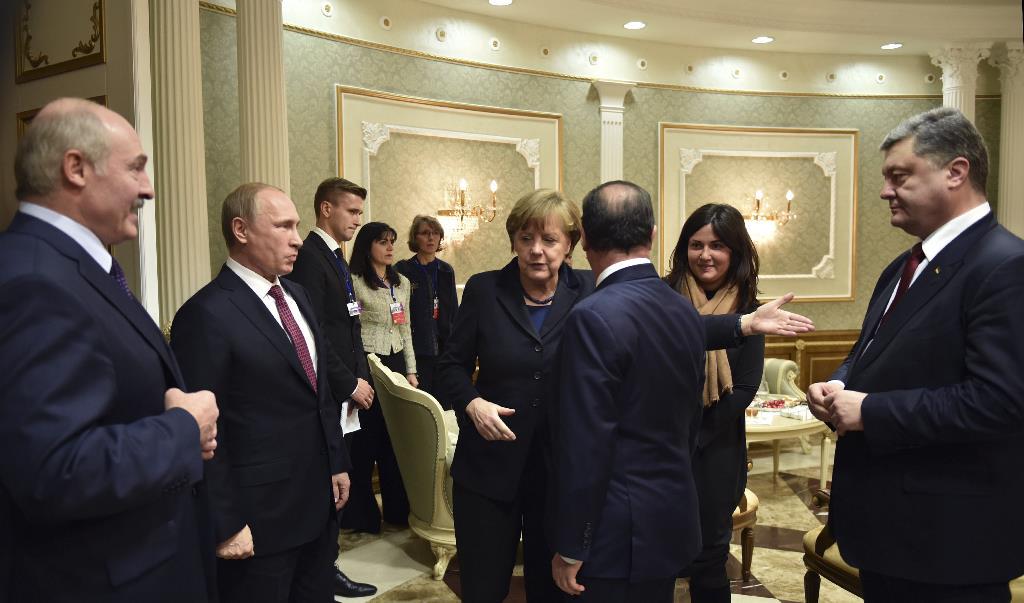 "On balance, I can say that what we have achieved provides significantly more hope than if we had achieved nothing."
Marathon talks have been held in the Belarussian capital Minsk, in an effort to put a stop to fighting in the area.
Putin said the truce would come into effect on Sunday (February 15) and that the withdrawal of heavy artillery would take place over the two weeks that follow.
Speaking from Minsk, German Chancellor Angela Merkel said the agreement was partly down to pressure Putin put on pro-Moscow separatists in the restive east of Ukraine.
"There is a glimmer of hope here," she said. "We have an in-depth implementation plan from the Minsk agreement but, of course, concrete steps have to be taken and we will still face major obstacles. But, on balance, I can say that what we have achieved provides significantly more hope than if we had achieved nothing."
Media stand close to the flags of France, Russia, Germany, Ukraine and Belarus at the presidential residence in Minsk on Feb. 11, 2015.
She also praised the efforts of Ukrainian President Petro Poroshenko, who "did everything to achieve the possibility of an end to the bloodshed".
Their French counterpart, President François Hollande, travelled straight from the 16-hour talks to a Eurogroup meeting in Brussels, where he confirmed:
"An agreement has been reached. We are no longer at odds over the issue. But the agreement doesn't guarantee lasting success over the coming days. It implies that we remain vigilant while exerting pressure and that we continue with our efforts, which were undertaken thanks to the initiative the Chancellor and I started."
Following the agreement on a peace plan, the International Monetary Fund offered Ukraine 35 billion euros (40 billion dollars) to prevent the country's financial collapse.
Reuters:
12. February 2015
Rebels won't sign Ukraine deal unless government troops retreat
Pro-Russian separatist fighters prepare on Feb. 9, 2015 to go to the frontline near Uglegorsk, 6 kms southwest of Debaltseve.
Participants at international peace talks trying to end the fighting in eastern Ukraine said on Thursday that pro-Russian separatists were refusing to sign an agreement unless Kiev agreed to withdraw its troops from the town of Debeltseve.
"No agreement yet. The pro-Russian separatists do not want to sign. They demand the retreat of the Ukrainian army from Debaltseve," said one of the sources at talks between the leaders of Ukraine, Russia, France and Germany in Minsk.
Pro-Moscow forces in eastern Ukraine have tightened the pressure on Kiev by launching some of the war's worst fighting near the railway town of Debaltseve.