Reuters, Censor.NET, EMPR: 25. August 2014
Novoazovsk outskirsts on fire. 25th August 2014.
A Ukrainian military spokesman said on Monday that Russian forces "in the guise of" separatist rebels had crossed into south-east Ukraine with ten tanks and two armoured infantry vehicles, aiming to open a new front in the separatist war.
"This morning there was an attempt by the Russian military in the guise of Donbass fighters to open a new area of military confrontation in the southern Donetsk region," spokesman Andriy Lysenko told journalists.
Earlier, a separate military statement said Ukrainian border guards had engaged an armoured column near the town of Novoazovsk on the Azov Sea in south-east Ukraine.
An attempt to cross the Ukrainian border near the town of Novoazovsk and Shcherbak village was made by Russian forces this morning, but Ukrainian Border guards claim joined the battle and stopped the enemy column near Shcherbak and Markyne villages. The battle continues, as well as shelling from the Russian territory.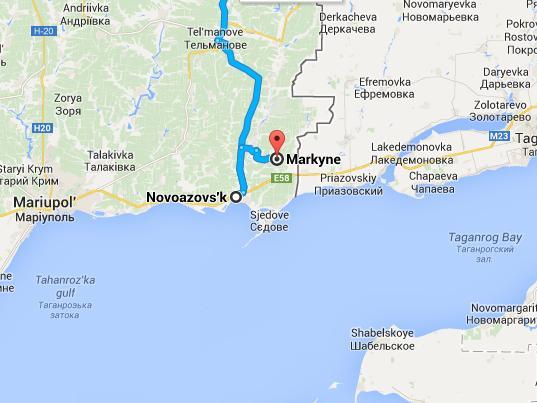 Dmytro Tymchuk,
the head of the Information Resistance group, reported that
Ukrainian troops on Aug. 25 morning managed to stop a larger part of a convoy of military vehicles, which entered Ukraine from the border with Russia near Novoazovsk.
Other source says r
egular units of Russia's army without mil insignia entered Amvrosievka in Donetsk region with 250 armored vehicles and artillery.
Ukraine's official NSDC Centre confirmes that 10 tanks, 2 BMPs and 2 Ural trucks managed to break through and
crossed the border
from Russia into Ukraine near Sherbak.
Convoy breakthrough into Ukraine from Russia occurred near Markyne. Markyne itself is not captured - NSC presser
Novoazovsk- Mariupol highway is still under control of ATO forces - NSC presser.
Within 2 days Ukrainian Border Guard positions near the town of Novoazovsk and Uspenka village were shelled from the Russian territory in a
another violation of the state border of Ukraine by Russian soldiers.
In spite of the situation, Ukrainian Border Guards continue to protect the State Border, Censor.NET informs, referring to the ATO press center.